Thomas S. Scoggins Memorial Scholarship
This college scholarship, instituted in 2007, is awarded to a graduating Fairhope High School Interactor – a club for young people ages 12-18 who want to join together to tackle the issues in their community sponsored by the Rotary – and is worth up to $2,500 a year for four years (total of $10,000). Recipients are chosen on the basis of academic performance, extracurricular activities, and need, with special emphasis on service activities, educational goals, and career plans that indicate a dedication to "Service Above Self."
To maintain the scholarship, the recipient must maintain a 3.0 GPA and submit proof of this by July 30 each school year. The recipient must also submit a monthly report (via email) during the school year and attend a weekly meeting of the Rotary Club of Fairhope at least twice each year. If either a community-based or a college-based Rotaract Club is available in the school area, the recipient is encouraged to join.
Previous recipients of this scholarship are:
2023: Hannah Grace Kirtman (Mississippi State University)
2022: Kyla JaKay Shaw (University of Alabama at Birmingham)
2021: Laney Haas (Auburn University) and Griffin Smith (Auburn University)
2020: Sara Elizabeth Hill (Birmingham-Southern College)
2019: Sydney Grace Johnson (Troy University)
2018: Ashlyn Rose Bankston (Auburn University)
2017: Carly Ann Huguley (University of Mississippi)
2016: Mary Eleanor (Ellie) Johnson (University of Colorado Boulder)
2015: Haley Breann Pollard (Faulkner State Community College/Enterprise State Community College)
2014: Brittney Annette Domino (Meridian Community College/Itawamba Community College/Mississippi University for Women/Mississippi State University)
2013: Paris La'Vett Odom (University of Alabama at Birmingham)
2012: Carly Turner McRae (University of Alabama)
2011: Richard Lee (Tres) Ledson III (University of Alabama)
2010: Samantha McGregor (University of South Alabama)
2009: Valerie Lanier (University of South Alabama)
2008: Lauren Moran (University of Alabama/University of South Alabama)
2007: Amanda Floyd (University of Alabama) and Erin Norris (Troy University)
Click here for a copy of the 2023 scholarship application form.
The Scoggins Scholarship honors Thomas Samuel Scoggins, who was a member of the Rotary Club of Fairhope from 1992 until his death in 2007.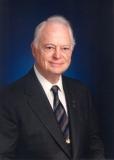 Tom was born July 16, 1918, in Nashville, Tennessee. He graduated from Vanderbilt University in 1939 with a B.A. degree in economics, magna cum laude and ranked fifth in his graduating class of 187. He was a member and officer of Sigma Alpha Epsilon fraternity and a member of Phi Beta Kappa.
He was one of two graduates in the Southeast that year to be offered a sales position with the relatively unknown International Business Machines Corporation. Tom joined IBM on July 10, 1939, and worked as a systems serviceman in Georgia, South Carolina, and Kentucky until January 10, 1942, when he enlisted in the U.S. Army, where he continued to perform similar functions.
After basic training and Officer Candidate School, Tom was assigned to the 92nd Machine Records Unit. During two years of service in the United States, he instituted a number of innovations, including a machine-automated process for forwarding mail to the troops. In September 1944, he was sent to Italy, where he commanded the 9th (Fifth Army) MRU in Florence until August 1945. He was awarded the Bronze Star. He designed and automated the process by which Service Rating Scores for Fifth Army servicemen were calculated to determine the order in which they were discharged and sent home after V‑E Day. He was honorably discharged from the army with the rank of major in July 1946, but remained in the Army Reserve, from which he was separated in 1953 with the rank of lieutenant colonel.
After his discharge, Tom returned to work for IBM and was employed as a salesman or sales manager in New Orleans and Shreveport, Louisiana; Louisville, Kentucky; and Houston, Texas, before moving to Bethesda, Maryland, in 1956. From that time until his retirement in 1981, he held a variety of management positions in IBM offices throughout the Washington, D.C., area.
In 1950, Tom joined the Rotary Club of Shreveport, Louisiana. In 1953, he was elected a director of that club but was unable to serve because his company, IBM (whose managers in those days joked that the initials stood for "I've Been Moved"), had promoted him to Branch Manager in Louisville, Kentucky. He was fortunate to be asked to join the Rotary Club of Louisville—but not for long, as in 1954 he was again promoted, this time to the position of Branch Manger for IBM in Houston, Texas, where he became a member of the Rotary Club of Houston.
In 1956, the company moved him to Washington, D.C., and kept him on the move, traveling over 500,000 miles in the first nine years visiting the U.S. Army's 42 Ordnance Corps installations from coast to coast. In 1965, when he was able to settle down again, he became a member of the Rotary Club of Washington, D.C. Between 1966 and 1969, he was again on the road twelve days out of every two weeks, traveling the country selling the company's new modem to banks and other institutions. He later said he didn't really understand what a modem was and just barely comprehended what it could do, but he was the consummate salesman and could sell anything. Despite the travel, he managed to attend or make up 100% of the meetings of the Washington Rotary club, which he served as president in 1975–76 and as a director from 1972 to 1977; in 1977–78 he was Governor of Rotary International District 7620 (District of Columbia and part of Maryland). In 1987 the Washington club honored him as "Rotarian of the Decade," and he remained an honorary member of the club even after leaving the area.
In 1991 Tom moved to Fairhope, Alabama, and again joined the local Rotary club. In 1993–94, he was asked to serve on the club's Club Service Committee and on the board of directors as Membership Development Director, in charge of both recruitment and training. One of his first actions in that position was to create and chair a "New Members Committee" to introduce recently inducted members to the concepts of Rotary.
Tom's New Members Committee concept was unique in the district, and he was often asked to share it with other clubs. As district Membership Development chairman in 1998–99 and 1999–2000, he presented seminars for interested club Membership Development chairmen and also invited members of other clubs to join his classes to see how they were conducted.
During this period Tom also worked tirelessly to recruit new members and meet R.I. goals for club growth, using a variety of team competitions to promote new member proposals. He also made presentations on membership development to PETS and at several district conferences, assisted in training Group Study Exchange team members, served as an advisor to club presidents and district governors, and served in any other capacity in which he was asked to serve (Tom was known for telling new members that "You only get one chance to say no in Rotary, and that's when you're asked to join.").
In addition to new member recruitment, Tom used team competition to promote attendance, which was always important to him. Although his frequent moves in his early Rotary years caused some gaps in his attendance, he was able to maintain 100% attendance during his 27 years in the Washington club and brought that with him to Fairhope. At his death on February 17, 2007, he had an unbroken string of 2,421 meetings attended (over 48 years).
Tom was widely known as a generous benefactor to numerous causes, most notably the Fairhope Public Library, in which he endowed the periodical reading room in memory of his wife and the circulation desk in honor of his daughter.
During his time in Rotary, Tom personally sponsored at least 40 new members, including his daughter, Suzanne Scoggins Barnhill. One of his sons is also a Rotarian. Tom was a multiple Paul Harris Fellow and a Rotary Foundation Benefactor. His wife, Virginia, was also a Paul Harris Fellow, as are all four of his children and other family members. As a Rotarian for over 50 years, Tom served his clubs and his districts in a multitude of ways and was an inspiration to Rotarians throughout District 6880.